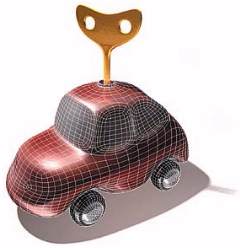 News
2001-07-24
Realsoft 3D v.4.2 released on Linux and SGI Irix
Realsoft 3D v.4.2 has been released for Linux (Intel, AMD) and Irix (MIPS). The product is currently sold as a commercial beta, and the price has been discounted respectively. Users who contribute in testing will get the update to the final Linux release without cost.

You can purchase the products from our Web Shop.

Note: Many graphics drivers for Linux are currently also beta versions. You can test the compatibility using the free trial version.
2001-07-21
VRML plug-in for Realsoft 3D V4.2
Soft-Artist has released a plug-in for importing and exporting VRML files. You can purchase the plug-in from our web shop and from our dealers.
2001-07-19
Realsoft 4.2 upgrade available for registered users
The new Realsoft 3D version 4.2 upgrade has been released for registered users. This release improves performance of Subdivision Surface modeling, as well as includes numerous minor improvements suggested by the users.

Registered users can download a free update kit from the Software Updates pages. The pages also instruct how to obtain a new updated install key.
2001-05-22
Realsoft 3D models
If you have created nice Realsoft 3D models and would like to share them, simply mail to gallery@realsoft3d.com and attach your model.
2001-02-25
Realsoft 3D V.4.1 released
The new Realsoft 3D version 4.1 is now ready and available free of charge for registered customers at the 'Software Updates' area of this website. The new version includes an extensive set of new features and speed optimizations, improves OpenGL compatibility and fixes most program errors reported by the users.

Some highlights: SDS face specific materials - unlimited amount of SDS face specific UV coordinates - new SDS editing tools - direct sub channel addressing available in VSL- faster real time drawing via GDI and OpenGL - a new 'Link' object available - improved anti-aliasing and an option to anti-aliase using a new 'blur' post effect.

We will e-mail information of how to download and install the new version to all our customers by the end of February. If you have not registered your license yet or for some reason do not receive the upgrading instructions, please contact info@realsoft3d.com.
2001-02-21
Realsoft 3D V.4.1 trial version released
The free demo version at the productinfo area of this website has been updated to include the latest product version 4.1. The new trial version allows 30 day unlimited use of all program features. Unlike in the previous demo release, project saving is now enabled.
2001-02-21
Computer Graphics World reviewed Realsoft 3D
The latest issue of the famous CGW magazine includes a favorable review of Realsoft 3D.
2001-01-09
New Realsoft 3D reviews published
Planet3DArt has published a comprehensive review of Realsoft 3D. Some quotes:

'Outstanding modeling capabilities'
The material/shader engine in Realsoft 3D is very powerful'
'VSL editor is really a damned amazing feature'

Another favorable review was published by the MikroPC magazine in their latest issue 20/2000.
2000-12-23
Realsoft 3D SDK
The SDK for Realsoft 3D V.4 is now available at this website. The new service pack release (Realsoft 3D v.4.1) is required in compilation of the SDK examples. Registered users can start using the SDK with the current beta version. Other users can evaluate the SDK fully with the next demo version release, available in January 2001.
2000-12-11
The success of Realsoft 3D in press reviews continues
'Digital Production' reviewed Realsoft 3D in the latest issue 4/00. Some quotes from this top-quality German magazine for computer graphics professionals:

'The developers of Realsoft 3D have created a great new version.'
'The four pages of this article can only cover a small part of features available in the software, as it has incredible depth.'
2000-12-08
3D World reviewed Realsoft 3D
The popular 3D World magazine reviewed Realsoft 3D. Check the favorable comments at computercreative.com.
2000-10-26
Realsoft 3D-Forum opened
There is now a forum for Realsoft 3D at www.postforum.com. Users of our software and those who consider purchasing it can exchange information here.
2000-10-26
Join the Realsoft 3D Mailing List
Join the Realsoft 3D Mailing list. Through this list you can talk to other Realsoft 3D users around the world. This mailing list is a free membership.
2000-10-25
IGES Plug-in version 1.2
IGES Plug-in version 1.2 available for registered users at Software Updates pages.
2000-10-24
Realsoft 3D v.4 feature summary now available at this web site
The product information pages have been updated. A feature summary is now included.
2000-09-19
Soft-Artist releases the Iges file format plugin
Soft-Artist, a third-party software development company, has released a plugin module for importing and exporting Iges files. The plugin will be distributed by Realsoft, so you can purchase it from our web shop and from our dealers. The list price of the plugin is 170 USD and the educational price is 85 USD.

According to Soft-Artist, VRML and Adobe Illustrator plug-ins will be released soon.