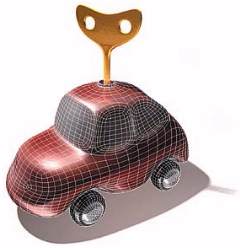 News
2003-06-03
New version of Realsoft 3D for Irix available
A new updated beta version of Realsoft 3D for Irix/MIPS has been released. The version represents the latest v.4.5/SP1 state of the product (build 26.41b) and is available for all Unix and Windows license owners at the user area of this website. The product can be purchased from the web shop of this site.
2003-06-03
Character animation book
Katharina Sckommodau has written a book (published by Addison-Wesley), which describes in detail how to model a character and attach it to a skeleton in Movie 3D. The book can be used with Realsoft 3D as well, because both programs use the same software architecture. The book can be purchased from Amazon.de. Available in German language only.
2003-05-23
New trial version for Linux available
An updated trial version for Linux operating system is now available at the downloads section of this website. The new trial version shows the functionality of the current commercial v.4.5 beta release for Linux (available at the Web Shop of this site), and allows 60 day free evaluation with the save feature enabled. The new version is built and tested on RedHat 8 and 9, but it should run on all corresponding Linux distributions.
2003-05-05
Computer Arts reviews Realsoft 3D v.4.5
Computer Arts magazine reviews Realsoft 3D in their May 2003 issue. A quote from the article: "In terms of price versus performance, Realsoft 3D is simply unbeatable."
2003-03-24
Service Pack 1 for Realsoft 3D v.4.5 now available
The first service pack for Realsoft 3D v.4.5 introduces several new features and improvements. It also fixes a number of program errors reported by the users.
The service pack is freely available for registered v.4.5 users at the 'Software Updates' area of this website.
2003-02-05
3DWorld reviews Realsoft 3D v.4.5
3DWorld magazine reviews the new version 4.5 in their latest issue. The verdict is 9 points from the feature set and full 10 points from the value for money!
2003-01-30
Web server realsoft.com moved
We have moved our web server www.realsoft.com to a new service provider. During the transfer, most of our internet based services were not available. We apologize the inconvenience caused by this.
2003-01-30
Linux Format reviews Realsoft 3D
Linux Format reviews the linux version of Realsoft 3D. The verdict is 9 points from the feature set and 9 points from the value for money!
2002-12-31
Greetings of the Season
Warm thanks to our customers and partners for their support during the year 2002.
Our latest product release, Realsoft 3D version 4.5, was received well by the users and the press. Development continues intensively and new releases are under way: v.4.5 Service Pack 1 and an updated trial version will become available in the beginning of January. Porting of Realsoft 3D for Mac OSX is also proceeding well.
Successful new year 2003!
The Realsoft Graphics Team
2002-11-03
Realsoft 3D v.4.5 for Linux released
Realsoft Graphics has started shipping the Linux version of the new product release Realsoft 3D v.4.5. Registered users can download their free upgrade from the 'Software updates' area.
2002-10-29
3D worxx reviewed Realsoft 3D version 4.5
The popular German 3D website 3D worxx has reviewed the new product version.
2002-10-23
Realsoft 3D v.4.5 shipping
The new Realsoft 3D v.4.5 is now ready and shipping! The new version introduces global illumination, multi-wavelength ray tracing for accurate spectral caustics and other optical effects, sub-surface scattering for realistic human skin shading, rendering time ray traced surface displacement, quick shadow map based lighting, a new user friendly tabbed toolbar providing a direct access to the modeling tools, hierarchical sub-image network distribution for unlimited render farms over internet at no additional cost, and hundreds of other improvements. You can buy the new product version from our Web Shop and from authorized Realsoft 3D dealers. Pricing (VAT excluded): Realsoft 3D v.4.5 for Windows 700 USD/EUR, Linux version 300 USD/EUR. A 50% educational discount and a competitive upgrade discount available. For more information about prices, visit the web shop. Also the Linux version will become available by the end of October. Registered Linux version owners will be able to download the free update from this website. An updated trial version 4.5 is under development and will become available later in November. For more information about the new features, check out v.4.5 feature summary and the web galleries.
2002-10-11
Version 4.5 development finalized
Realsoft 3D v.4.5 is now ready. The new product will become available in 1-2 weeks. Registered customers will receive instructions how to upgrade by e-mail. If you do not have Realsoft 3D yet, you can subscribe to the 'Information about new products' list to receive a note as soon as the product starts shipping.
2002-08-19
New plug-in for reading Photoshop Images released
Schmeling Consulting has released a plug-in for reading and writing Photoshop images. You can download the plug-in from www.schmeling-consulting.de
2002-07-24
Realsoft 3D Version 4.5
Realsoft 3D Version 4.5 will be released during the third quarter of 2002. Version 4 to 4.5 upgrade will cost 150 USD/EUR (VAT excluded, licenses after Dec 2001 updated free of cost).
The price of a new license will remain at 700 USD/700 EUR.

2002-07-19
Plug-ins for Linux
Plug-ins from Schmeling-consulting are now available for the Realsoft 3D Linux version. Registered users can download them from ftp://ftp.realsoft.com/plugins/linux.
2002-04-30
Plug-in for importing DEM files
Schmeling-consulting has released a plugin for importing Digital Elevation Model (DEM) files from the US Geological Survey into Realsoft3D. Digital Elevation Models are landscape height maps, which are available for the entire US and some other areas of the earth. The plug-in can be downloaded from www.schmeling-consulting.de.
2002-04-14
New 'Wavefront OBJ' plugin released
Schmeling-consulting has released Wavefront OBJ file format plugin for Realsoft 3D.
The plug-in imports Wavefront OBJ files into Realsoft3D and exports geometric objects from Realsoft3D to Wavefront OBJ format. Also uv coordinates are supported enabling texture mapped geometry exchange between Realsoft 3D and other popular 3D programs. For a full list of features, consult the documentation shipped with the plug-in. The plug-in is 'freeware' and can be downloaded from www.schmeling-consulting.de.
2002-02-01
Realman plugin close to release
A new plugin for Realsoft3D - Realman:Materials - is undergoing final preparation for release.

Based on a highly versatile scripting language Realman:Materials offers ultimate flexibilty in the creation of procedural materials.

The plugin will be available in three versions all having the same feature-set but differing in level of support for networked rendering.

Scheduled for release by the end of February 2002.

Full details will be available at www.realman3d.co.uk.
2002-01-26
Realsoft purchased 'realsoft.com'
Realsoft has purchased the domain name 'realsoft.com' to improve Realsoft's visibility in the internet.

The new 'realsoft.com' domain will refer to a new site physically located in the USA. This website will introduce new customer services and improve downloading bandwidth. The 'realsoft.fi' domain will continue its operation as an European mirror site.

All our e-mail addresses work also with the new domain.

The user list, which is currently running on win.net, will be moved into realsoft.com.